Do you wanna use more than 1 cloud computing service in a same network? You can do it with Multi-cloud. This enables to enterprises deliver apps or services across public, private or hybrid clouds. You can use multiple vendors, accounts, different locations and more. With Multi-cloud you can have a couple providers of Infrastructure as a Service (IaaS), two private Container as a Services (CaaS) and more in the same place. This is very usefull to enterprises who needs flexibility and different controls in one network.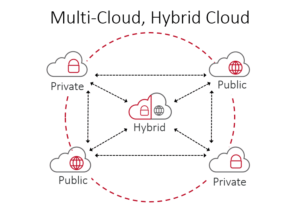 Remember, exist three models of Cloud Computing: 
Private Cloud: With Private Cloud the infrastructure is exclusively of a single organization with just a few clients or third parties. Normally is the same organization that control all the infrastructure.  
Public Cloud: Unlike Private Cloud, Public Cloud is open for everybody, normally is managed or owned by a government organization or an independent organization. 
Hybrid Cloud: The hybrid cloud is the union of two or more infrastructure that can be private or public that remains like unique identities but are in a bundle. 
With a multi-cloud you can have this three models in a same network without any problem.
Why you need a Multi-cloud Architecture
Right know you will be asking you why do you need a Multi-cloud architecture. Well all is about offering a perfect and easy solution to any problem your client may be presenting. Using Cloud Computing from different vendors in a same network you can provide your clients with more safety options. If one of the cloud service don't have what you need you always can use other. 
Forget about geographical limitations, having a Multi-cloud architecture allows you to have cloud infraestructures close to your clients, doesn't matter where they are. Diversify is one of the main reason you should have a multi-cloud architecture, is always important to have many places to storage you key assets, resources or apps.  Are you going to give Multi-cloud an opportunity?